Custom pet portraits make up the majority of the artwork that I create.  As an animal lover there is nothing I enjoy more than being trusted with the important task of creating a lasting memory and celebration of your furry friend! Pets are such important parts of our family and I love being presented with a characterful, fluffy face to recreate in pencil.  These pieces are so personal and I will always engage in an in-depth discussion to make sure you are getting exactly what you want. If you would like to commission your very own custom pet portrait commission, simply follow the steps below...
1. Click here to upload your reference photos along with information about your order. Alternatively you can email me at [email protected]
2. I will email you a confirmation of receipt and an invoice for the 20% deposit to secure your booking.
3. If you wish, I will send progress shots and a final photograph of the piece for you to approve.
4. Once you are 100% happy, I will send you an invoice for the remaining amount.
5. Once payment is confirmed I will post the piece flat, special delivery via Royal Mail to the address of your choice.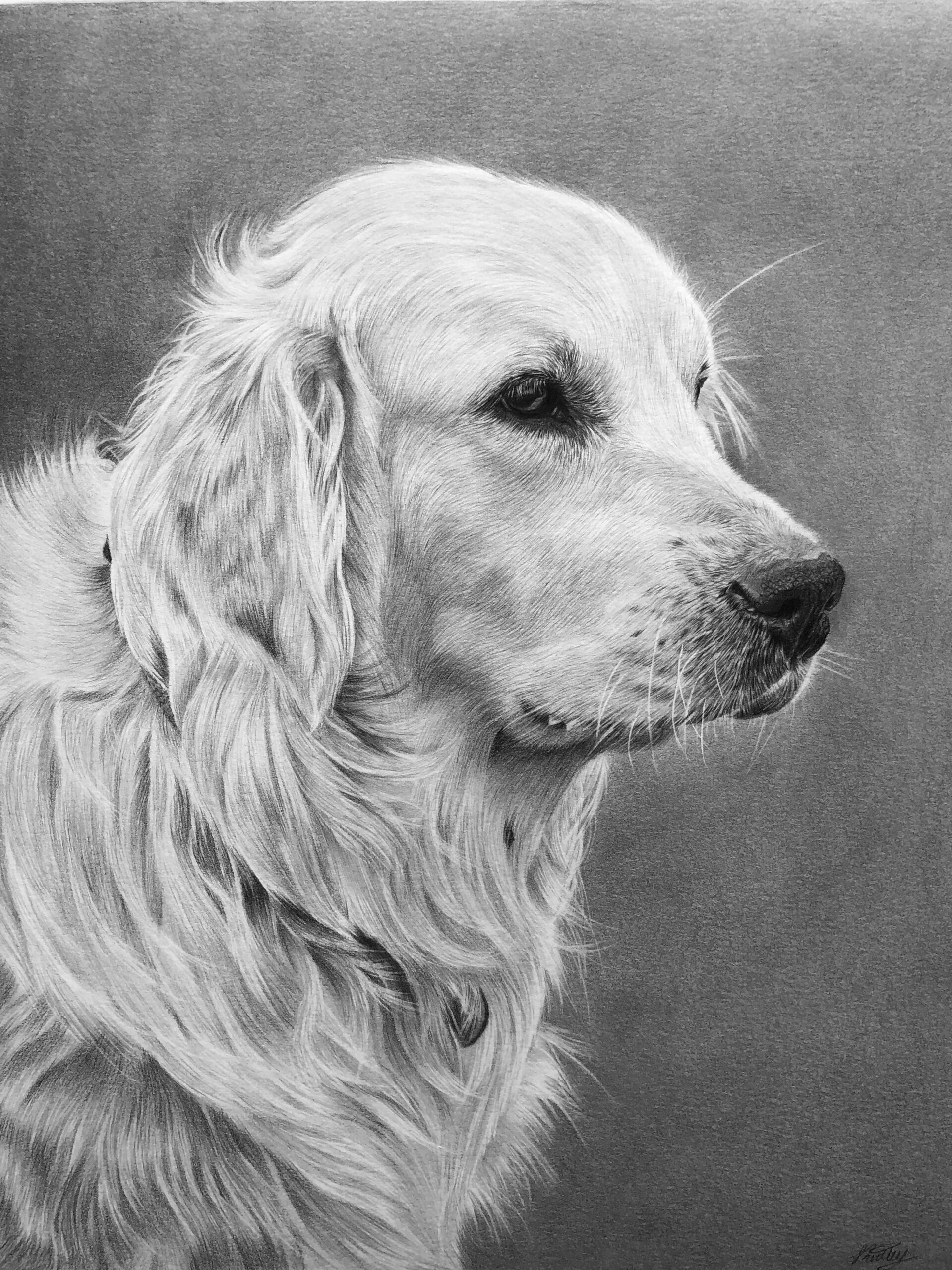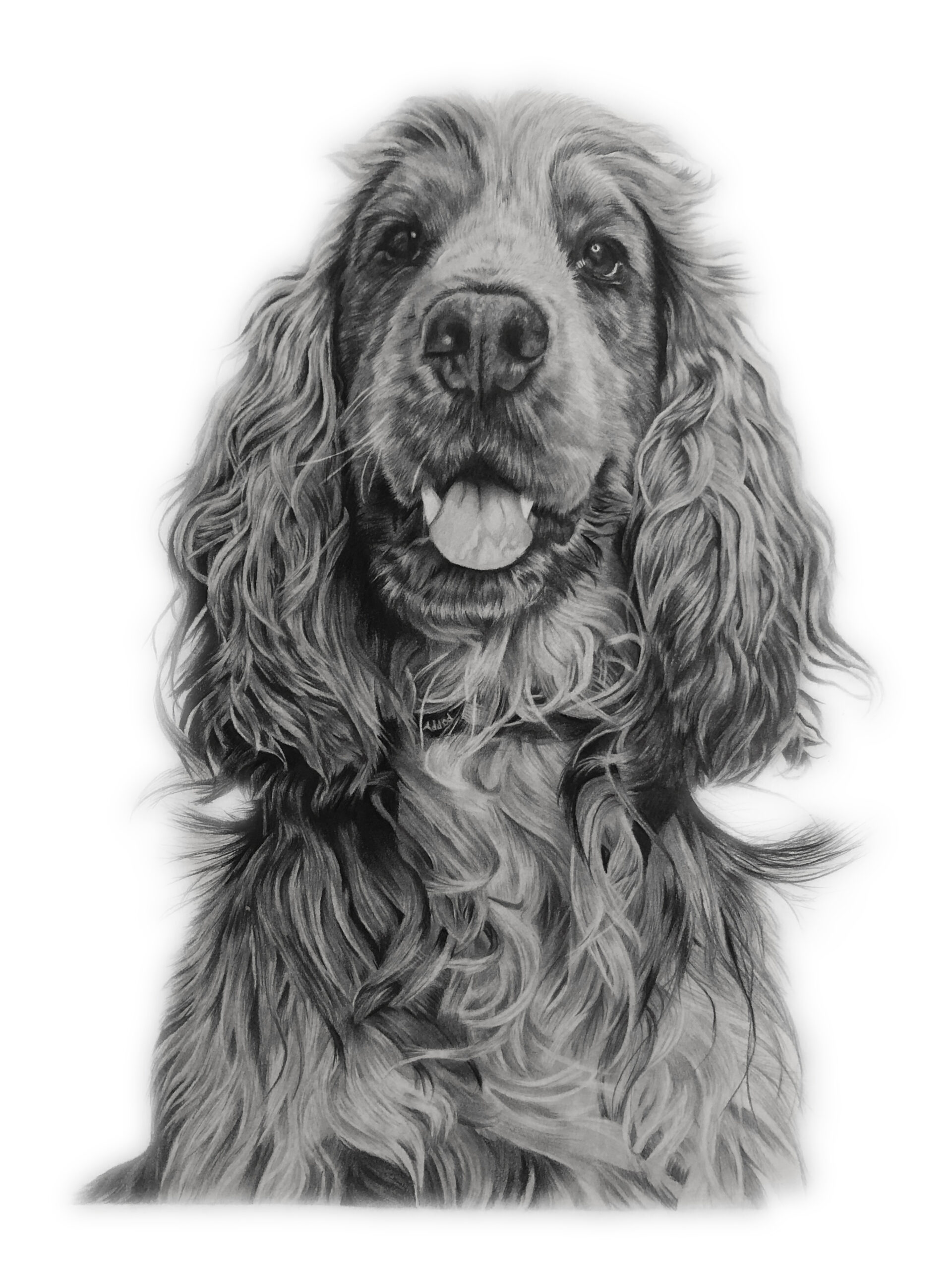 Dogs are mans best friend, and I am certain that no dog owner would disagree. In the past I have volunteered at a rescue centre and the diversity of characters was fantastic.
Capturing your dog in a pencil portrait is a lovely way to celebrate their individuality.  If you would like a full body dog portrait, I would always suggest a larger size.  If you are looking for something a little smaller than a head and shoulders portrait works well.  I will usually draw your dog without a background, as then the piece is focused purely on them.  However, if they are lying or sitting I will always add a suggestion of the ground so that they don't look like they are floating.
If you decide you would like the full background included, this may incur a small extra fee if it is complicated to draw. My task as a dog portrait artist is to capture the quirks and individuality of your dog and create a life-like representation of your family friend.
Cats fascinate me. Having grown up with cats, I love the fact you never quite know what they are thinking.  My pet cat 'Tiny' (who coincidentally grew up to be huge) had 2 car accidents and was without a doubt a little brain damaged.  He would often lash out at other people, but with me was trusting and loving.  This is a standard example of the individual bonds people create with their pets and to capture the pet through the owners eyes is the aim of a cat portrait artist.
A few years ago I spent a few months helping look after abandoned cats.  I saw everything, from the beautiful, regal looking long-haired cats who's owners could no longer care for them, to the boisterous, alley cats who showed all the signs of street life.  Each and every one had a unique and wonderful character, and it is this that I enjoy putting into a cat portrait.  Capturing a cat exhibiting stereotypical behaviour makes for a beautiful custom pet portrait.
Group Custom Pet Portraits
If you would like to commission a group pet portrait of multiple subjects from separate photos, this is something I can create. I would highly suggest a larger sized piece (11" x 14" and larger) in this situation so that detail of all animals can be captured. Group custom pet portraits require that all source photos are taken from roughly the same angle. For example, if one photo is taken from above and the other straight on, then the final piece can look very odd. Something else to take into consideration is how much of each animal you would like included. Sometimes head and shoulders group portraits can work well, but it all depends on the available photos. We can discuss all options and I can advise with how to move forward.
Prices vary depending on size and quantity of subjects.  The prices below are for one subject with no background. Although I work from one main reference photo,  it's always best to send a few options.  Once we have settled on a size, photo and time frame, a 20% deposit is required to confirm your booking.   Please don't hesitate to get in touch if you require a customised size not listed here.  These sizes are standard picture frame size and will fit straight into a frame. However I would always suggest getting your portrait mounted before framing it.
| | |
| --- | --- |
| SIZE | 1 SUBJECT |
| 8" x 10" | £200.00 |
| 11" x 14" | £250.00 |
| 12" x 16" | £320.00 |
*Prices exclude postage and packaging.
*I accept direct bank transfer and PayPal.
*20% will be charged for each additional subject.
*Picture prices include no/simple background. Complicated backgrounds will incur an extra fee.