Drawing cheetahs
Is it all about size…?
I have spent the past months drawing cheetahs large and small, so now you can have your pick! My first version of this cheetah drawing was a small 4" x 6" and was donated to DSWF Wildlife Artists of the Year with 100% profits going to the charity.  (I have a few limited edition prints left at only £20…click here to support this amazing wildlife charity.)
The source photo from www.wildlifereferencephotos.com was so brilliant that I had to recreate her supersized. Luckily, lockdown presented me with the perfect opportunity to focus on this; the second of my large baby animal pieces. I prefer drawing large, but I now have storage problems! If anyone knows someone who'd like to re-home a cheetah, send them my way!
When I travelled to Africa, I was fortunate enough to have an interaction with a cheetah at a rehabilitation centre. I am usually very wary of these situations. If a wild animal is displaying anything other than its natural behaviour, it has more often than not been mistreated by humans to 'train' it to obey. Maybe I will write about this a little more in the future; the use of wild animals in tourism is something that I passionately believe has to stop. However, it turned out that this cheetah had been raised by humans before being rescued and unfortunately could not be rehabilitated.
The beauty of these animals is breathtaking and to see one up close and feel their energy was magical. These animals are made for speed!
Cheetah Facts:
Cheetahs 'tear drop' face markings reflect the sunlight and reduce glare while they are hunting during the day.

 

Cheetahs are endangered due to humans encroaching on their land.  Cheetahs need a wide expanse of land to hunt and live and are often shot by farmers protecting their livestock.
Cheetahs use their tails as a rudder when they are running.
Cheetahs chirp and growl….no roars here!
Cheetah cubs are often trafficked and sold into the illegal wildlife trade/exotic trade pet.  These animals are used for financial gain and killed or neglected when they are no longer of use.  As entertaining as Netflix 'The Tiger King' was, it totally failed to shine a light on the cruelty of this industry.
The Artwork: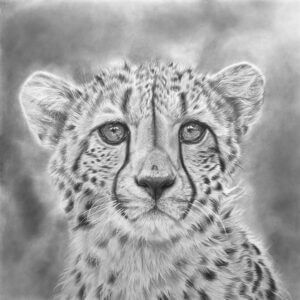 Prints of 'Gone In A Flash – Small'  limited edition: click here
Prints for 'Gone In A Flash – Large' limited editions will be available soon.
ORIGINAL AVAILABLE FOR SALE.
Original Size: 23" x 23"
Medium: Graphite
Paper: Strathmore Bristol smooth
Check out my time lapse below for a better look into my process for this piece and for an in depth audio explanation .