Leopard Conservation –  Fundraiser Prints
Last year I was fortunate enough to have my piece 'Heavy Sleeper' selected for the DSWF Wildlife Artist of the Year.  This year my entry was 'Chips' the leopard, who is now helping me raise funds for 2 wonderful charities in Zambia through the sale of limited edition prints…
As the deadlined for 2021 Wildlife Artist of the Year loomed, I realised that I had left it very late and had been caught up with Christmas commissions.
I had known since the competition in 2020 that I wanted to use some of the brilliant photography by Matt Armstrong from Armstrong Safaris  and also that I wanted to add to my collection of baby animal drawings.
'Chips' the Leopard | 'Hope' the orangutang |  'Gone In A Flash' the cheetah cub | 'Tuft' the baby giraffe.  
Click here for prints.
Drawing Chips
Who more perfect than Chips to fit the bill.  Chipazuwa is a leopard residing in the South Luangwa region of Zambia where this picture was captured.  She was young at the time and the face-on photograph was perfect to add to my wildlife baby series.
I must admit, time caught up with me and I was too late to get the materials I needed.  When sourcing those I wanted for this piece I really struggled to locate the textured paper I was looking for.  I ended up having to press on with a sheet of Bristol Board Smooth that I had stored and tried to get the very last scrapings of charcoal from my stubby soft pencil!  (It seems the unfortunate mix of the Covid-19 pandemic and Brexit challenged suppliers.)
Never-the-less, throwing yourself in with whatever materials you have and adapting to different surfaces/mediums is always a great way to learn new tricks and techniques!
Charcoal is much messier than graphite and the smooth paper definitely did not hold the charcoal in the same way as the tooth on a textured paper does.  This meant a lot of time building up charcoal layers to get the dark tones and using a much darker selection of charcoal pencils.  An advantageous element to this paper is that is it much easier to lift the charcoal back off the paper when using erasers to create white hairs.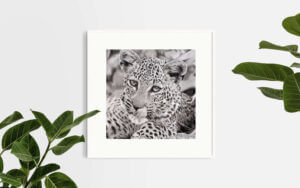 Leopard  Fundraiser Prints
Chips was unfortunately not selected this year for the Wildlife Artist of the Year competition.  However, I am determined to do what I can to help leopards and have decided to create 50 LIMITED EDITION PRINTS.   These have been created with the mind to raise funds for 2 charities in South Luangwa where Chips roams.  Please click on the links below to find out more about the incredible work these charities do.
Size of print: 8″ x 8″
Size of mount: 1″
Size of full piece: 10″ x 10″
£10 from every sale with be donated directly to one of the brilliant charities.
Each print comes with a certificate of authenticity and will be gift wrapped in tissue paper and delivered flat.
All sales will help protect these beautiful and elusive creatures and I will be forever grateful to you for your support.